Date: 2016.05.30 | Category: Forum Club Handball | Response: 0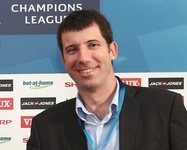 The 15th General Assembly of Forum Club Handball took place on the fringes of this years VELUX FINAL4 in Cologne. 35 clubs from 21 countries were present, among them the 4 VELUX FINAL4 participants from Kielce, Veszprem, Paris and Kiel, but also Athens, Celje, Dublin, Flensburg, Granollers, Hasselt, Kristianstad, London, Minsk, Skopje, Zaparozhe and Zagreb to mention some of them.
As the current FCH-President, Joan Marin, took over the position of the Managing Director in Spanish ASOBAL, he did not stand for re-election.
The newly elected FCH-Board reads as follows:
President: Xavier O'Callaghan (FC Barcelona/ESP)
Vice-President + Treasurer: Dierk Schmäschke (Flensburg/GER)
Vice-President: Bert Servaas (Kielce/POL)
Board member: Peter Leutwyler (Schaffhausen/SUI)
Board member: Karl Lofmark (Lund/SWE)
Deputy Board members:
Thorsten Storm (Kiel/GER)
Pep Blanchart (Granollers/ESP)
Robert Molines (Montpellier/FRA)
Gregor Planteu (Celje/SLO)
Magnus Clarke (Dublin/IRL)
FCH representatives:
EHF Competition Commission: Radek Wasiak (Kielce/POL)
EHF Professional Handball Board:
Xavier O'Callaghan (FCH President)
Gerd Butzeck (FCH Managing Director)
EHF Club Licensing Working Group
Joan Marin (FCH Honorary member)
EHFM Men's Club Board:
Thorsten Storm (FCH Dep Board member)
Lasse Boesen (Kolding-Copenhagen/DEN)
EHFM Advisory Board
Gerd Butzeck (FCH Managing Director)
EHFM Financial Inspection
Peter Leutwyler (FCH Board member)
FCH Comptroller
Gerd Hofele (Göppingen/GER)
The meeting minutes will be delivered to the FCH Member clubs in June 2016. GB